AUSTRALIAN MOVIE POSTERS
Original Australian Daybills (1900s – 1941)
Australian daybills from this era measured approximately 15" x 40" and are commonly known as "long daybills". Two posters were generally printed from one sheet of paper using either the hand litho process (see my guide on daybills 1960-2006 for more information on the hand litho technique) or stone litho process. Many pre 1941 daybills had a white border area at the top of the poster for screening details to be added by the cinema owner.
Daybills from this era are extremely hard to find and often feature breathtaking and unique artwork. A number of printers were used during the era including
JNO Evans
Marchant
Simmons
Hackett Offset
Matthews and Co
Paper Products Litho
F.Cunninghame
W.E.Smith
Morrison and Bailley
Offset Printers
The Swift Printing Co.
and others
Artwork was produced by various studio artists including
Tom Ferry
Wynne Davies
Frank Tyler
Fred Powis
…..and the famed Richardson Studio who produced most of the art for Paramount Studios. The founder, John Richardson, signed some early 20s posters.
It is important to note that some titles from this era were reissued in the 40s or 50s. Any original poster for a pre 1940s film should almost certainly be a long daybill.
A number of long daybills were also issued in a comlimentary duotone style and these are somtimes referred to as reissues but it is more accurate to say that they are original duotine versions.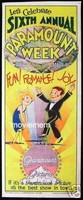 Long daybills are genuinely rare and are extremely hard to find. There have been some interesting finds over the years with one or two turning up in old houses that were in the process of demolishmnet. The posters had been used as a form of insulation between linoleum and floorboards.
These posters are a unique part of Australian film history.
Click on the links below to find…
ALL YOU NEED TO KNOW ABOUT AUSTRALIAN MOVIE POSTERS