AUSTRALIAN MOVIE POSTERS
James Bond 007-1st 4 Daybills
Australian daybill is the term that is used for original posters released for the Australian market. See my guides on Australian Movie posters for more information.
The first four James Bond daybills for are incredibly hard to find:
Dr No
From Russia With Love
Goldfinger
Thunderball
Note that I am not including Casino Royale among the first four as I do not consider that to be a true Bond film.
These daybills are all hand lithos with fairly crude artwork but they are far more difficult to locate than their US or International counterparts. Pictured below are three of the first four including the heavily censored Goldfinger that was used for the New Zealand release. Note that various scenes have been blacked out by the censors and the New Zealand "A" censor mark added. "007" has also been added in the top rh corner.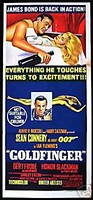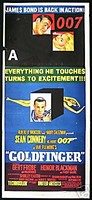 I can only speculate on the reasons for the rarity but the fact is, that in all my years as a dealer, I have only ever had one Goldfinger (uncensored), one Thunderball and one Dr No. I have never seen an original From Russia with Love although I do have the Australian 3 sheet. That is a pretty fair indication that these posters are extremely rare. A number of the major Bond collectors in Australia and internationally have also agreed that these posters are exceptionally hard to find.
The reasons for the rartity can only really be speculated upon. One theory is that this is due to the incredible popularity of the films and the fact that the majoirty of the posters were used. However, there were many other extremely successful and popular films in this era but posters are relatively easy to obtain for these titles. Another theory is that cinema staff and owners would salt away remaining posters for their own collection but this practice would nearly always result in them surfacing again at some time in the future for sale. Few have surfaced over the years.
Bear in mind that you can find a US one sheet for these films any day of the week from a variety of dealers providing you have the cash.
Other suggestions were that the print runs were insuffiicient to meet with the demand and the majority of the posters were simply used and discarded with any excess being sent to New Zealand where they were mutilated by the censors.
Whatever the real reason, the fact is that they are very hard to find.
There are plenty of one or two colour daybills that are often referred to as original but when looking for original James Bond posters for the first four titles you should always expect the original to be a full colour hand litho with the printers name, Robert Burton, clearly displayed in the lower rh corner. It should be noted that some of the one and two colour daybills were printed very close to the original release of the film as a compliment to the full colour version. There is plenty of evidence that cinemas would often receive a few full colour daybills and some additional one or two colour daybills with their order. Here is an example of some of these posters. The Thunderball and FRWL (red and black) are clearly later releases but the Dr No and FRWL (first picture) were probably issued very close to the original release.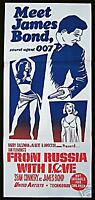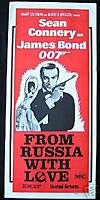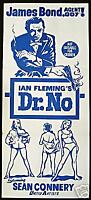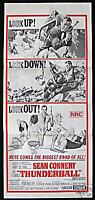 Footnote: I recently acquired the very rare 1962 release combo daybill for Dr No and From Russia with Love. Although this poster is strictly a reissue, it is an exceptionally rare hand litho poster and I thought it would be worth showing here.

Click on the links below to find…
ALL YOU NEED TO KNOW ABOUT AUSTRALIAN MOVIE POSTERS
© John Reid Vintage Movie Memorabilia

Free counters provided by Andale.